How to enable Public Upload for my customer/business partner?
You may use Public Upload feature to allow your customer/business partner to
upload files to you via a shared password. After upload, you will receive an email about that file.
First, you need to create a folder (e.g. /public_upload/) in your account.
This folder will store the files uploaded by your customer.
Then, login to BizFTP Web Control Panel, e.g. https://YourCompanyName.files.hk
After login, you will see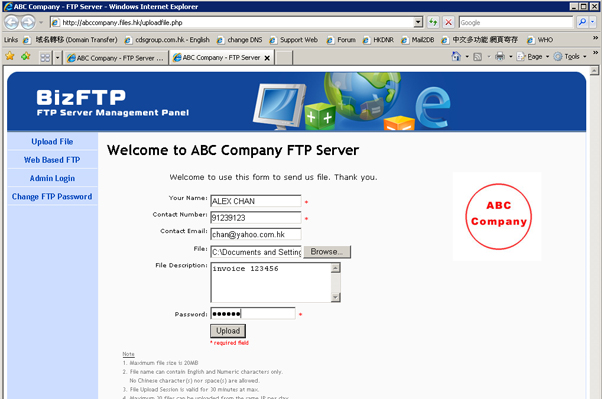 In the left hand side, please choose "Public Upload"
| Setting | Description |
| --- | --- |
| Enable Public Upload | Enable/Disable (default is disable) |
| Upload Directory | The folder to store files |
| Email Notification | which Email sent to after file uploaded |
| Daily Max. Size | Daily total Maximum size user can upload to you |
| Organization | Display your organization name in Public Upload screen |
| Upload Instruction | Display an instruction in Public Upload screen |
| Upload Password | Upload Password |
When you enabled the Public Upload,
you can now goto default BizFTP URL, (e.g. https://abccompany.files.hk)
You will find the default page changed, and changed to File Upload,
and you can now let your customer to upload file.
Note: if you like to show your company logo in Public Upload,
you need to upload your logo in BizFTP Web Control Panel Upload Logo section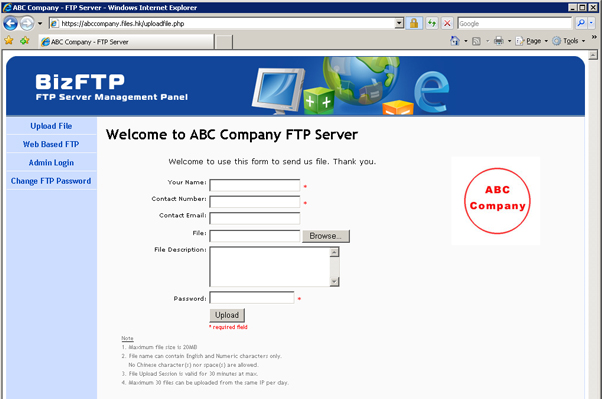 Your customer can upload file to you via Web Interface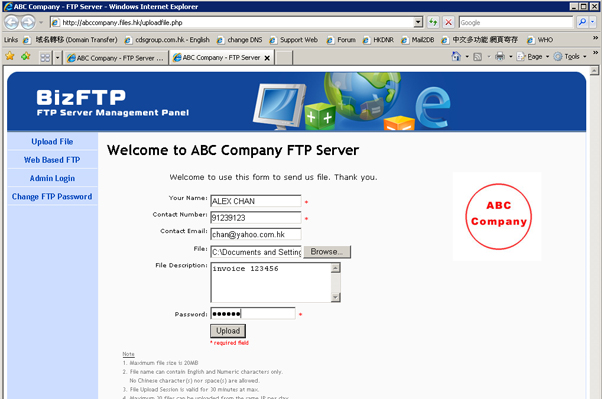 Around 1 minute later, you will receive an email notification like this,
and the file will be stored in the designated directory.